Company information
Nabtesco

| | |
| --- | --- |
| Company name | Nabtesco Corporation |
| Date of establishment | 2003.9.29 |
| Address | JA Kyosai Bldg., 7-9, Hirakawacho 2-chome, Chiyoda-ku, Tokyo 102-0093, Japan |
| TEL / FAX | +81-3-5213-1133 / +81-3-5213-1171 |
| Capital | 10billion yen |
| Representative | President & CEO: Katuhiro Teramoto |

Power Control Company

| | |
| --- | --- |
| Company name | Nabtesco Power Control Company |
| Address | JA Kyosai Bldg., 7-9, Hirakawacho 2-chome, Chiyoda-ku, Tokyo 102-0093, Japan |
| TEL / FAX | +81-3-5213-1152 / +81-3-5213-1172 |
| Representative | Mr. Shinji Juman |
History
1961
Establishment of Tarui Plant
1970
Establishment of Seishin Plant
1996
Establishment of Shanghai Teijin Co., Ltd.
(Present Shanghai Nabtesco Hydraulic Co., Ltd. (SNHC))
2003
Nabtesco Corporation established as a holding company with Teijin Seiki Co., Ltd. and NABCO Ltd. As wholly-owned subsidiaries and listed on the Tokyo Stock Exchange (First section market).
2004
Acquisition of OHSAS18001 Certification
2005
Acquisition of ISO14001 Certification(The year of 2004 version)
2008
Establishment of Nabtesco Power Control (Thailand) Co., Ltd.
2009
Acquisition of ISO9001 Certification(The year of 2008 version)
2013
Establishment of Shanghai Nabtesco Hydraulic Equipment Trading Co., Ltd
2013
No. of GM motors delivered exceeded 2 million units
2015
Nabtesco acquired the Hyest Corporation from TOSHIBA MACHINE CO., LTD.
Organization chart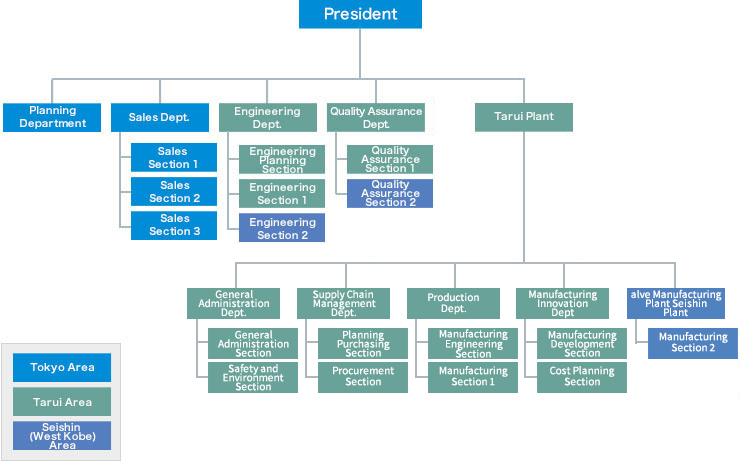 Market Share
Nabtesco's travel units for excavators are winning high acclaim in Japan's domestic market, as well as in rapidly growing countries including China. We provide a range of products from small to large sizes, showing a strong ability to cover diverse applications.
Control valves for mini excavators have a strong market share worldwide, supporting global expansion of customers' business. Also, our hydraulic components for cranes have established a solid reputation domestically, with our lineup of high-quality products.
Nabtesco
Others

Travel units for
hydraulic excavators

Nabtesco
Others

Main control valves for
mini excavators

Nabtesco
Others

Winch units & Main
control Valves for
rough-terrain cranes